ALCOA LEAF RELIEF over 25,000 ft installed and counting...
Designed for existing or new construction gutters

Whether you're getting new gutters put on your home or just want to relieve yourself of leaves and debris, Alcoa makes this great product two ways!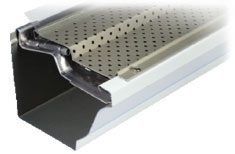 New construction guards are built with the gutters and installed together. Not only will the guards completely cover your gutters from one end to the other, they actually strengthen the gutters 50% more than hangers alone. If you have gutters and need to stay off the ladder for at least ten years, leaf relief makes "retro-fit" guards. These gutter guards rest over the back or your gutter against the fascia board and screw down on the top front lip to keep them from shifting during high winds.
Does not interfere with your shingles

Leaf Relief is designed to cover your gutter without touching your shingles. Many types of gutter guards are placed under the last layer of shingles or in between the last two layers. Depending on the age, condition and type of roof this is not always possible. Alcoa's leaf relief avoids this by covering your gutters from the fascia board to the front edge.